Pass completions, 79 percent! Passer rating of 104.9! Most importantly, no turnovers!
It sure appears Jared Goff's shoulders were broad enough Sunday against division rival Arizona Cardinals, and it proved he knows how to learn from mistakes and protect the football. The next question is can he achieve consistency before Rams fans as a whole give up on him?
The Los Angeles Rams (8-4, 2-2) moved back in control of their own destiny and into a tie on top of the NFC West standings after dispatching the Cardinals (6-6) in the Arizona desert. The Seattle Seahawks were shocked by the New York Giants, setting up a four game-sprint for the Rams to try to win their third NFC West crown in the last four years.
Like it or not, Sunday's story was ALL about Goff. The Rams defense was its usual stout self in spite of a 14-point effort in the second half. Some would even say the pick six by Troy Hill was what won the game for L.A. I will argue that it was the Rams quarterback that saved the team from disaster both as a team and personally.
Goff's ability to transform himself into a Joe Montana-type of player, someone who takes the safe pass play and let's his receivers run with the ball. The Rams receivers do this entirely well. Goff can possibly take the team deep into the playoffs and possibly his second Super Bowl (Have you all forgotten about that?) by duplicating Sunday's effort over and over again.
Head coach Sean McVay too shared fault with the results the previous week against the Niners. His play package for Goff left him in the pocket far too often and allowed the defensive pass rush to zero in on the quarterback, especially if he was going to sit in there like a sitting duck.
McVay gets some credit as well for Sunday, it seems (I didn't track it) like Goff was rolling out of the pocket 70% of the time, which puts him in a much more comfortable position. It allowed him and his receivers time to develop the short routes, or get out of them for pinpoint pass completions.
Goff, at one point in the first quarter, was five of 10 passes, but finished hitting 32 of his last 37 passes for a game total of 351 yards, his sixth 300+ passing game this season.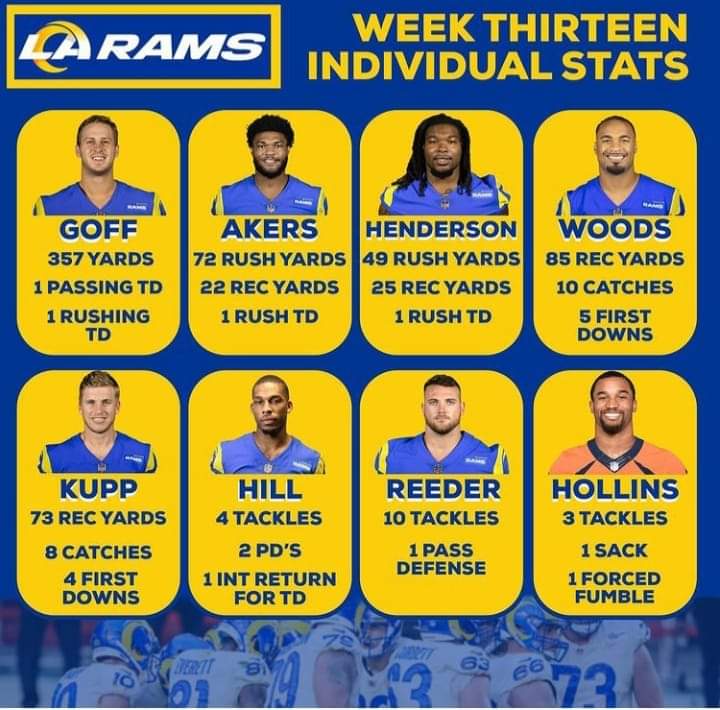 Being what it is, social media was much more tolerant and sarcastic Sunday night after the win and Goff's professional performance and demeanor. This week it's "Where are all those Goff-haters now?"
Will Jared Goff continue his great career progression, or will Mr. Inconsistency reappear at the most inopportune time?
We will all find out Thursday as the Rams try to extract the demon that befuddles them the most, Bill Belichick and the New England Patriots.
You can follow Bob Smith on Twitter @amoresports. Be sure to follow Rams Talk on Twitter @TalkRams.