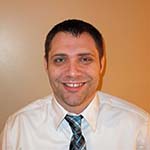 Derek Ciapala
                                                       CEO of Gridiron Media Group
Derek is an award-winning journalist, who has been published on Yahoo! Sports, Sports Out West and other media outlets. He is currently the managing editor of Rams Talk. Follow Derek on Twitter @dciapala or on Facebook.
---
        Norm Hightower
                                                         COO of Gridiron Media Group
Norm is a sports enthusiast and avid outdoorsman residing in the State of Oregon. He has a wealth of sports knowledge and experience when it comes to football. His prior coaching and playing experience makes him our resident expert of the X's and O's. He is currently the assistant managing editor of Rams Talk. Follow him on Twitter @NormHightower or on Facebook.
---
      Johnny Gomez
                                                        Partner, Staff Writer & Social Media Manager
Johnny is a recent graduate from California State University, Northridge. He is a Southern California native and is a passionate sports writer. Follow him on Twitter Johnny5not6 for more of his thoughts and opinions in the world of sports.
---
      Bob Garcia IV
                                                        Staff Writer
Bob is a journalist  from Southern California. Previously, he was a sports reporter for the award-winning newspaper, The Daily Sundial, at California State University, Northridge. He has a strong passion for the Los Angeles Rams and has followed the team closely for over the last 15 years.
He is also the Los Angeles Lakers beat writer for Sportsoutwest.com, and covers the Los Angeles Angels of Anaheim for Rantsports.com. He is active on Twitter and can be followed @
bgarcia90
.
---
       Skye Sverdlin
                                                         Staff Writer
Skye has contributed many historical pieces to Rams Talk,  along with in depth interviews with Ram greats like Dick Vermeil and Keith Lyle.
Follow Skye on Twitter @Skyeattolah
---
      Steve Rebeiro
                                                         Staff Writer
Steven is a sports writer currently studying at Marquette University, set to graduate in 2016. He is a native of Connecticut. He also hosts a sports talk show on Marquette Radio. Follow him on twitter at @steverebeiro​ for more of his opinions.