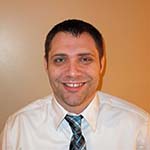 Derek Ciapala –  CEO of Gridiron Media Group, Editor-in-Chief
Derek is an award-winning journalist, who has been published on Yahoo! Sports, Sports Out West and other media outlets. He started Rams Talk in 2013, in hopes of bringing awareness to the franchise's history. Derek is currently the managing editor of Rams Talk and hosts the site's flagship podcast, Rams Talk Radio. He currently teaches American History and American Pop Culture and Sports History to bright-eyed high-schoolers in Northeast Ohio. Derek and his wife Jenn and two daughters currently reside in Youngstown, Ohio. Follow Derek on Twitter @dciapala or on Facebook.
---
        Norm Hightower –  COO of Gridiron Media Group
Norm is a sports enthusiast and avid outdoorsman residing in the State of Oregon. He has a wealth of sports knowledge and experience when it comes to football. His prior coaching and playing experience makes him our resident expert of the X's and O's. He is currently the executive producer of Rams Talk podcast. You can hear his thoughts on the flagship Rams Talk podcast, Rams Talk Radio. Norm currently works and lives in Baltimore, Maryland with his partner-in-crime and a beloved bass fishing boat. Follow him on Twitter @NormHightower or on Facebook.
---
      Johnny Gomez – Partner, Managing Editor & Podcast Host
Johnny is a recent graduate from California State University, Northridge. He is a Southern California native and is a passionate sports writer.  You can catch Johnny with Steve Rebeiro on the Rams Talk podcast, Butting Heads. Johnny still resides in So. Cal and somehow survives his multiple jobs to bring his best to Rams Talk. Follow him on Twitter Johnny5not6 for more of his thoughts and opinions in the world of sports.
---
      Steve Rebeiro –  Podcast Host/Staff Writer
Steven is a sports writer who recently graduated from Marquette University. A native of Connecticut, he's used to standing alone in his opions. You can catch Steve on his Rams Talk podcast, Butting Heads. Follow him on twitter at @steverebeiro​ for more of his thoughts.