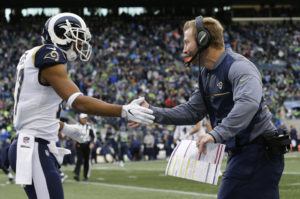 We have finally reached the final act of what has been an improbable season for tortured Los Angeles Rams fans. Time for a curtain call dressed in throwbacks. It's a last chance to get out to the Coliseum to watch Todd Gurley go for the rushing title. How about one final opportunity to see Jared Goff break the "bust" narrative that dogged him throughout the offseason? It is the last chance for fans to confirm that the Rams have somehow morphed into a new well-rounded winner, coached by Sean McVay, who is seemingly half Doogie Howser, half John Wooden.
But wait … 
Needless to say that the news that McVay is resting many of the team's starters this Sunday disappointed amped up Rams fans. It's okay though; we're not used to winning yet. It's been a while. We want to gorge on rushing titles, and 12-win seasons. We want to watch dejected San Francisco 49ers fans head for the exits. But like the players have become extensions of McVay, maybe we all need to do the same.
McVay has an uncanny ability to create a straight path towards a goal, and he wastes little time with fluff. When I had a chance to attend a practice before the season began, McVay recited the formula for success. "We feel like if we can continue to excel at special teams, while increasing our third down efficiency and red zone efficiency, we feel that we can be competitive in a lot of games this season and we will strive for competitive greatness every day," McVay said.
No fluff. Call it coach-speak if you want, but going from four wins to 11+ wins generally takes a few seasons, not one. So why would we believe that if McVay's goal is to win a Super Bowl this season, that he would ask the injured-walking to slog through a meaningless game when they could have the luxury of being at 100% for the playoffs?
Now is the time
Make no mistake, the Rams are young and may be ahead of schedule. However, their Super Bowl window is open now. We could see talent compromised in other areas with stars like Aaron Donald and Lamarcus Joyner heading towards the end of their rookie contracts. Just ask the Seattle Seahawks and 49ers how nice it was to have quarterbacks on rookie deals back in 2011. The point is, the Rams' time is now, and they must put their best foot forward.
The final goal
Let's be glad that our pilot is willing to do whatever it takes to reach our ultimate destination in Minneapolis. Maybe this path means a stop in New Orleans instead of the Coliseum, but maybe it doesn't matter. The Rams finished 8-1 away from Exposition Park. We know that in whatever timezone the Rams play, they'll have every opportunity to be the healthiest, best prepared team that day.
What more can a fan ask for?