Imagine walking into a classic themed barber shop with wall-to-wall Los Angeles Rams memorabilia. Well, you don't have to imagine anything, it actually exists. The Golden Ram Barber Shop is located in Southern California, home of the Los Angeles Rams.
Nostalgia lives at the Golden Ram Barber Shop. It possesses the vibes of a 1950s barbershop, despite being opened in 1994 – the year the Rams departed to St. Louis (more on that later). The two Rams blue barber chairs highlight the shop, and act as thrones to finding the better outer/inner man. The senses wake up here, the scent of powder fresh from the brush stays with you and provides a sense of confidence.
By far the sense most tickled is sight. The Golden Ram Barber Shop is heaven for Ram fans of all ages. It is a time capsule
of Rams history, no matter where the team has played. Posters, pictures, license plates, jerseys, ticket stubs and banners; you name it, this shop proudly displays it. There's a story behind each item, and owner Sal Martinez gladly shares it with his patrons. "I don't get rid of any Rams merchandise. Even if they're not in St. Louis anymore, it's a part of their history." A dedicated fan like Sal cherishes every aspect of the team.
The thing I cherished most about my experience at the Golden Ram Barber Shop is simply talking Rams football with Sal. He knows what he's talking about and appreciates good conversations about the Rams. The experience instantly reminded me of my past relatives that enjoyed their particular barber shop. Sal established a community within his shop, a place where fans can talk Rams football, and they might even a learn a thing or two.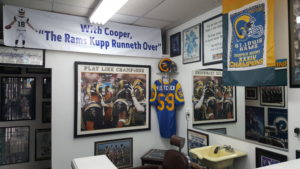 One conversation that Sal brought up was the lack of "real" football fans. He made it clear that he wasn't just referring to Ram fans. Instead, it was the loss of die-hard fans across the nation. This idea puzzled me initially, but as he began to explain, he made a lot of sense. The sport indoctrinates the younger generation of fans with the idea of appreciating the league, not necessarily individual teams. "Think about it, fantasy football teaches people to root for players, not the team they play for," Sal explained. I couldn't help but agree as I hid the fantasy football app on my phone.
Thinking deeper into the matter, team loyalty generally stems from a family tradition. My previous family members grew
up in an era where you repped your team more than the player on the back of your jersey. That's not to say that you didn't show love for your favorite players on the team, but that love burned deeper for the team colors. Now, many "fans" often follow their favorite players, coaches or teams that have more consistent success.
Another good point Sal brought up was how social media tends to negatively impact the game. This one I had mixed feelings on. I totally understand that some fans are too pessimistic, and sometimes they clash with passionate fans. But that's the point, this form of communication takes the social aspect away from the conversation. We often forget the people we communicate with at the other end of the computer is a person too. Most of us wouldn't be as inconsiderate of the person's viewpoints in person. In all actuality, Ram fans should have a place like this congregate at just go about with their daily dose of "Rams Talk." There is one bright light: social media does help bring fans together.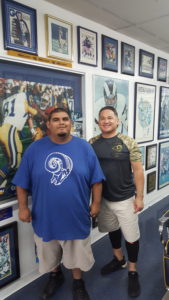 For those that want to enjoy their next haircut, seek out the Golden Ram Barber Shop.  It's located on 13755 Goldenwest Street in Westminster, California. Call (714) 894-7267 (RAMS) to book your appointment ahead of time, because Sal gets booked quickly. Oh, and don't forget to tell him that Rams Talk sent you.
You can follow Johnny Gomez on Twitter @Johnny5not6. Be sure to follow Rams Talk on Twitter @TalkRams.